Bletchley gas cylinder explosion damages four homes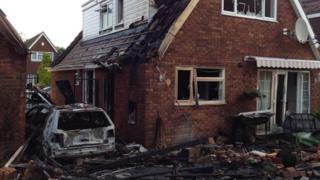 Four homes were damaged when a gas cylinder exploded in a garage.
The LPG cylinder landed about 20m (66ft) away and sparked fires which destroyed the garage and damaged neighbouring homes and a car in Turnberry Close, Bletchley, Bucks.
The force of the blast at 04:45 BST blew internal doors off their hinges and caused fires in two of the homes.
No-one was hurt, with one person treated for shock and another for a pre-existing condition.
A resident of one of the damaged houses said: "There was such a loud explosion I couldn't think what it was.
"Ten minutes later I heard another one so I got up to see what was going on.
"Someone hammered on the door to tell me to get out.
"I think we all got out quick enough."
Neighbour Bruce Hankins said: "All the doors flew open, it blew the front door in. All the roof tiles are off.
"How anyone wasn't injured, I just don't know."
Station manager Ian Wilson, from Broughton Fire Station: "I am sure there are many other people out there who are currently storing gas cylinders for barbecues, camping stoves and other equipment in their garages and sheds.
"This incident has illustrated the amount of damage that can be caused, not to mention the risk to life, when something goes wrong.
"Gas cylinders should be stored outdoors, ideally in a caged area, away from anything that could start a fire and away from anything that a fire could spread to."