Watford man jailed over sex assaults on friend's baby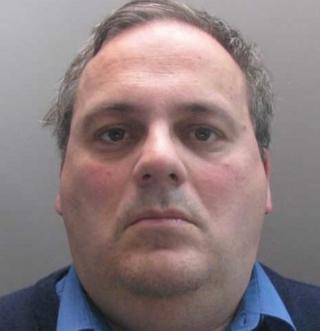 A man has been jailed for carrying out sex assaults on a friend's baby, which he also photographed.
Clive Gay, 45, of Leven Close, Watford, admitted four charges relating to the 14-month-old, at St Albans Crown Court.
Judge Andrew Bright said some police officers who catalogued the "graphic and horrible" material found on Gay's computer, had needed counselling.
Gay was jailed for ten-and-a-half years to be followed by three-and-a-half years release on licence.
The court heard Hertfordshire Police found a hoard of child sex abuse material on Gay's computer when his home was raided in April 2013.
A set of images taken by Gay's own camera showed sexual assaults on the baby, whose family was then traced.
The family looked on the defendant as a friend who had been entrusted to look after the child on a number of occasions, the court heard.
'Breach of trust'
Judge Bright said: "This material is so graphic and so horrible that I understand some of the police officers who had to watch and catalogue the material needed to have counselling afterwards.
"The extent to which you breached the trust they [the family] placed in you is one of the most shocking aspects of this case."
Gay also pleaded guilty to 11 offences of making indecent photographs of a child, two counts of possessing indecent photographs of a child and one count of possessing 38 extreme pornographic images.
Carle Wolfe, defending, said: "He needs substantial assistance to deal with the thoughts and feelings he has for children."
Det Con Emma O'Keeffe from the police's child online safeguarding team said: "I would like to thank the victim's family for showing extreme courage throughout the case and I hope the fact that this man will be in prison for some considerable time will offer them some comfort."