Bedford and Milton Keynes Hospitals 'could lose' A&E services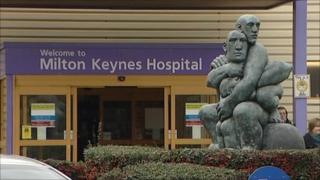 Accident and emergency services at Bedford and Milton Keynes hospitals could be lost as part of a £3.2m NHS services review, a report said.
The joint Bedfordshire and Milton Keynes healthcare review says "sustaining emergency surgery on both sites is not sustainable long term".
In the 14 options given there is no scenario where both hospitals keep current emergency services.
Bedford mayor Dave Hodgson said all the options were "very concerning".
The review by the clinical commissioning groups (CCGs) for both Milton Keynes and Bedfordshire (MKCCG and BCCG) aims to provide a "unified, joined up system".
Its report says the population is getting older, there are growing numbers with long-term conditions and "comprehensive specialist treatment" cannot be provided in every hospital.
If nothing changes the hospitals face a combined projected £47m deficit by 2019, it added.
'Right skills'
MKCCG chairwoman Dr Nicola Smith said the review was studying "patient flows and travel times" for each of the 14 options.
"[This will] ensure we provide the right care in the right place, by those with the right skills," she said.
Dr Diane Bell, from Bedfordshire CCG, said other hospitals were already taking patients from both towns.
"You have a heart attack today in Bedford you wouldn't be taken to either Bedford or Milton Keynes A&E, you'd bypass both and go straight to another centre where they are best used to dealing with heart attacks," she said.
"Similarly with major trauma... in fact centralising things like that have been shown to save hundreds of lives."
Elected mayor Mr Hodgson accused the CCGs of "not being clear".
"Trying to get [them] to say really what the options are is incredibly difficult," he said.
"[But] going to Milton Keynes, Luton or Hinchingbrooke... means a longer travel period to access services and patients taken away from their support network, which is so important."
Final decisions are due to be made in 2015.