Radlett rail depot: Fight cost council £1.4m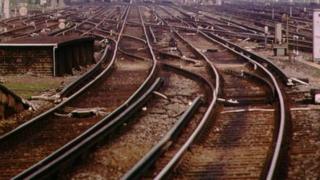 A council has spent £1.4m in a seven-year fight against a rail freight terminal proposal for green-belt land in Hertfordshire, it has been revealed.
Since 2007, St Albans District Council has fought two planning applications and three High Court cases against developers Helioslough's plans for the Radlett Aerodrome site near St Albans.
The proposal was approved by the government on Monday.
Councillor Julian Daly said "there is a cost to democracy".
The proposal for the Strategic Rail Freight Interchange (SRFI) was first lodged by Helioslough Ltd in 2006 but the district council twice refused planning permission over fears of damage to the green belt.
It was a "massive decision" for the area which would have a "huge impact on the green belt", said Mr Daly, who is responsible for planning and conservation.
"We have to argue our case and that costs money," he said.
"We believe we made the right decision in the first place and we are defending that position."
Benefits outweigh harm
Ministers also blocked the proposals in 2010 after the developers appealed.
Following a second appeal, Communities Secretary Eric Pickles backed the development in December 2012.
The council applied for a judicial review in February 2013 but the High Court turned the request down.
The Department for Communities and Local Government finally approved the scheme saying the benefits outweighed harm to the landscape.
The council has until 22 August to decide if it wants to challenge the latest decision in the High Court and is currently discussing the matter with its legal advisors.
A further challenge will cost between £50,000 and £100,000, the council said.
Mr Daly said it had money set aside for fighting for the green belt and if it decided to appeal it would be because they felt they had a case to argue.