Haileybury College 'stolen' silver 'not stolen'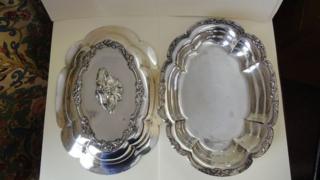 Antique silver items reported as having been stolen from private school had in fact just been moved.
Police were told dozens of "distinctive" pieces had been taken from Haileybury College in Hertford between 10 July and 11 August.
An appeal for information was issued but was halted after the college revealed the silver had been found.
A college spokesman said "archiving procedures" were under review but would not say where the silver was found.
Hertfordshire Police confirmed it was "no longer being treated as a crime".
When appealing for information, a police spokesman said the items, which were of "significant historical and monetary value", were "very distinctive and would be very easy to recognise".