Police compensate Louise Davies over wrongful arrest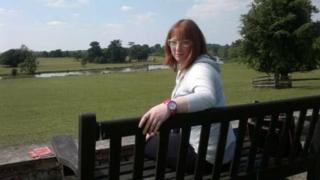 A woman, arrested after a false anonymous tip-off, has been awarded £6,500 by Thames Valley Police in an out of court settlement.
Louise Davies' Milton Keynes home was raided in March 2011 and she was arrested on suspicion of theft.
The Independent Police Complaints Commission (IPCC) found the allegation was "not corroborated" and police had "made an assumption".
The force said it hoped the payout would put the "matter to rest".
Ms Davies, who had recently left hospital after being treated for an infection, was arrested and detained by two police officers in the early hours of 29 March.
She was questioned on suspicion of the theft of medication from the Lister Hospital in Stevenage on 21 January.
'Absolutely petrifying'
She said she heard an officer tell her mother they had a warrant to search the house for Class A and Class B drugs.
"Because we'd never had any involvement with the police, it didn't seem to make any sense," she said.
"To be poorly and put in a cell for a crime you did not commit and not have a clue what was going on was absolutely petrifying."
Ms Davies said she did not know who had contacted Crimestoppers with the "malicious" allegation.
'Significant discrepancy'
The IPCC found officers applied for a search warrant without corroborating the tip-off.
Investigators found a "significant discrepancy" between the allegation and the record of an actual crime.
Police said two officers had been given "advice" following the report's findings.
Ms Davies said the settlement would "never get rid of what happened".
"I was brought up to respect the police but I now have a very different view," she added.