Bedfordshire PCC Olly Martins: No further actions says CPS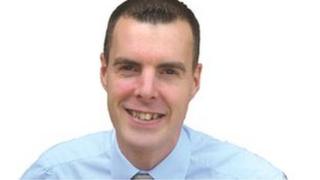 Bedfordshire's Police and Crime Commissioner who admitted passing on sensitive information, will not be charged with misconduct.
Olly Martins was investigated by the Independent Police Complaints Commission (IPCC) that passed his file to the Crown Prosecution Service (CPS).
Mr Martins had admitted giving details of the death in custody of Leon Briggs to his partner.
But, the CPS found "insufficient evidence" for a prosecution.
Luke Bulpitt, a specialist prosecutor with the CPS special crime and counter-terrorism division, said: "In any case of misconduct in public office, we would have to show that any disclosure of information was serious enough to amount to an abuse of the public's trust, particularly regarding the extent and likely consequences of the disclosure. The evidence is not sufficient to establish this.
"As a result, we have advised the IPCC that no further criminal action should be taken."
Mr Martins said he had co-operated fully with the investigation.
"I am very grateful to the CPS for the speed of their decision, a conclusion which will now draw a line under the matter," he said.
"I hope that people will be reassured that my actions have been investigated exhaustively and due process has been followed to the letter, leading to today's outcome.
"As I have previously acknowledged, I made an error when I discussed sensitive information about the death of Leon Briggs with my partner, but I welcome the fact that the CPS has clearly established there are no criminal charges to answer."
The Labour commissioner, who was suspended from the party when the allegations were revealed, has already received a written warning from the police and crime panel.
He was interviewed under caution as part of the IPCC investigation.
Father-of-two Mr Briggs, 39, of Ashburnham Road, Luton, was arrested on 4 November following concerns raised by members of the public.
He became ill at Luton police station and was taken to Luton and Dunstable Hospital, where he died.
A separate IPCC investigation is being held into his death.