Further charge in Buckinghamshire child sex abuse inquiry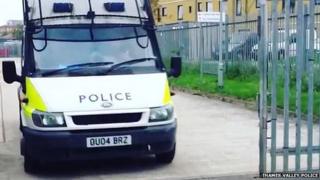 A man has been charged with raping a child as part of an investigation into historical sex abuse.
Farrukh Bashir, 42, of Westwood Walk, Aylesbury is accused of rape and conspiracy to rape in relation to a girl aged 13 to 15-years-old.
He is also charged with arranging the prostitution of a teenage girl.
The alleged offences relate to one victim in the Aylesbury area in 2008. Thirteen properties were raided on 2 September as part of the same inquiry.
Officers carried out early morning raids in Aylesbury, Milton Keynes, Buckingham, Chesham in Buckinghamshire and Hayes, west London.
Of the 13 men arrested, ten were charged with sexually abusing girls under 16 and three were released without charge.