Stevenage murder: John 'Boy' Ward guilty of Thomas Ward killing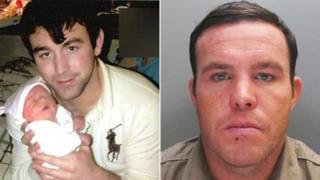 A 33-year-old man has been found guilty of murdering his cousin's son as part of a decades-long family feud.
John "Boy" Ward shot Thomas Ward, 21, at a caravan site in Stevenage, Hertfordshire, just days after the victim's daughter was born last year.
The defendant, who lived at Clarkson Court, Hatfield, was convicted by a jury at St Albans Crown Court, who heard that the feud began in 1987.
He is due to be sentenced at a later date.
The court heard the murderer had phoned his victim in 2011 and told him: "It's me, your enemy.
"I'm going to wait until you are at your happiest - then I'm going to get you."
'Sins of his father'
Thomas Ward's wife Theresa gave birth to his daughter Lily five days before he was killed on 23 April 2013.
A window of his caravan was smashed while the couple and their daughter were asleep and three masked men confronted him, one firing a shotgun.
The trial heard the feud began when Thomas's father, James "Young Fox" Ward, was held responsible by some family members for the death of his cousin Micky Ward in a car crash in 1987.
Six years later James Ward shot dead Micky's brother James "Bimbo" Ward and was jailed for manslaughter.
John "Boy" Ward was the younger brother of the two dead men.
Thomas had not been born when the feud began, but John Price, prosecuting, said: "To John Ward, it was immaterial - Thomas Ward shared the sins of his father."
The defendant went on the run after the killing and settled in Denmark.
He told the jury he had panicked because he heard there was a £100,000 contract to find and kill him.
The defendant's wife, Joeleen Ward, 22, was found guilty of assisting her husband to flee the UK.
His brother, Francis Ward, 36, of Stable Way, Kensington, London, and his sister Winifred, 47 of Cambridge Road, Hounslow, west London, were convicted of assisting an offender.
Dates for sentencing have yet to be set for all four.