'Unprecedented rise' in Stevenage dog attacks, say police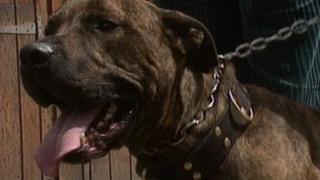 There has been "unprecedented rise" in the number of dog attacks and related incidents in Stevenage, according to recently released figures.
More than 30 offences have been recorded under the Dangerous Dogs Act in the last 10 months compared to 11 the year before, police said.
Officers hope to educate people about responsible dog ownership along with recent changes in legislation.
It is now against the law to let a dog be dangerously out of control anywhere.
Sgt Manjit Khela said: "A dog does not have to bite to be deemed dangerous in the eyes of the law, a dog jumping up on someone could constitute an offence."
'Dangerous' at home
New laws concerning the control of dogs came into effect in May 2014.
Places where it is now against the law to let a dog seem dangerously out of control include private areas like a neighbour's garden or your home - including the front and rear gardens.
"Even if the dog does not bite, but gives the person grounds to feel that the dog may injure them, the law still applies," said Ms Khela.
"We have seen an unprecedented rise in the number of incidents being reported to us relating to dogs in Stevenage.
"This takes up a huge amount of police time and I'm sure if people had a better understanding of the laws relating to dogs, some of these incidents would be avoided."