Leighton Buzzard pub offers to 'nail' unruly children to tables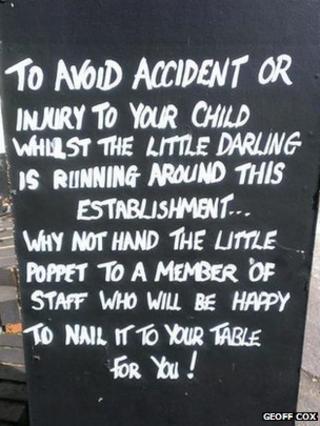 A Bedfordshire pub which put up a sign offering to nail people's unruly children to their table has defended it as "just a bit of fun".
The sign was put up by Nikki Brodin at the Black Lion in Leighton Buzzard, who said she did not want screaming children running round.
It suggests staff would "happily nail it [your child] to your table... to avoid accident or injury" to the child.
Children's website editor Debbie Bird said the notice was a "bit aggressive".
Miss Brodin said the sign was not intended to offend.
She said the pub welcomed children but wanted people to "talk and socialise and not have children running around screaming".
'Not banning kids'
Geoff Cox posted a photograph of the sign on Twitter, saying: "Warning to parents".
The sign reads: "To avoid accident or injury to your child whilst the little darling is running around this establishment... why not hand the little poppet to a member of staff who will be happy to nail it to your table for you."
The pub does not serve food, nor does it have music or a television. Instead it encourages customers to talk to each other over board games.
"We certainly didn't want to ban kids, we just believe in traditional values. It's just a bit of fun," Miss Brodin said.
"It's not to offend anybody - we have children ourselves."
Ms Bird, family editor at Babyworld.co.uk, said while she recognised the sign was "tongue-in-cheek" some of the wording was "a little bit aggressive".
She said it was important that children were "exposed to social events" such as going out to pubs and eating in restaurants.
"They won't learn unless you give them a chance," she said.