Former Milton Keynes mayor Subhan Shafiq 'not fit' for health committee role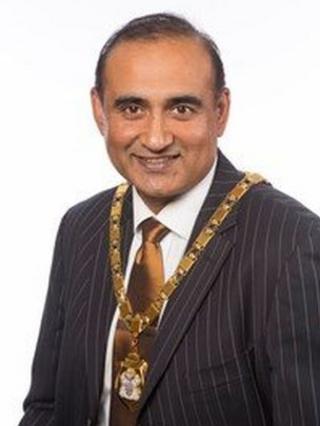 Councillors have voted against appointing a former mayor to a health select committee after he vouched for a rapist who was granted a taxi licence.
Subhan Shafiq resigned as Milton Keynes mayor after it was revealed Nadeem Ahmed Kiani had convictions for rape and sexual assault.
His Liberal Democrat party nominated him to sit on the health committee.
But its members backed a motion saying this was "improper" and referred his appointment back to full council.
It emerged in August the driver, who had raped and sexually abused prostitutes in London in 1994, was granted a private hire taxi licence in 2011 after Mr Shafiq backed him.
In March, he was given a hackney carriage licence by a council officer.
Criminal convictions
An investigation resulted in both licences being revoked and the resignations of Mr Shafiq, licensing committee chairman Stuart Burke and deputy chairman, Gladstone McKenzie.
The motion, introduced by adult health and social care committee chair Alice Bramall, said co-opting Mr Shafiq was "improper in light of the serious lapse of judgement he showed".
Mr Shafiq was not at the meeting and has not responded to requests to talk to the BBC.
Fellow Liberal Democrat Isobel McCall walked out of the meeting accusing Ms Bramall of being "personally vindictive".
But Ms Bramall said her motion was vital to make sure the committee remained "well respected".
An ongoing council investigation into taxi licensing has found seven other drivers in the city have criminal convictions.