Roofer Tony Broadbent cleared of son's manslaughter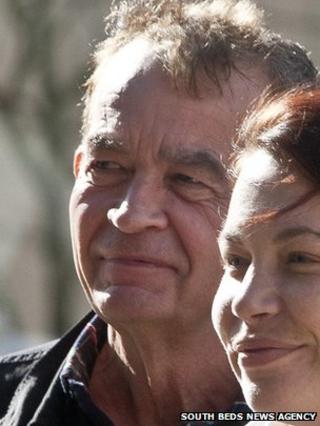 A man has been cleared of the manslaughter of his son, who was killed as they worked together repairing a warehouse roof.
Kyle Broadbent, 25, was helping out to repay his father Tony for a Chelsea season ticket he had bought for him.
But in August 2012, as Kyle walked across the roof, he stepped through a skylight and fell to the ground.
Mr Broadbent, 61, from Harrold in Bedfordshire, was cleared by a jury at Luton Crown Court.
Jurors are still considering whether he failed to discharge his duty of care as an employer.
The prosecution at Luton Crown Court claims he was grossly negligent in his safety procedures.
Kyle Broadbent, of Furzton, Milton Keynes, who usually worked in IT, died on 18 August 2012 at the warehouse in Newport Pagnell owned by Acctim Ltd.
'Suffers flashbacks'
He occasionally helped his father out, but was not a trained roofing contractor.
Prosecutor Iain Wicks said: "This case concerns what can only be called a tragic death."
Broadbent Roofing, a one-man business, was awarded a contract worth £11,150 to replace old skylights, the court heard.
Mr Wicks said: "He saw Kyle walking towards him and called to him to stop but it was too late,
"Mr Broadbent should have made sure his systems were in line with the law. He owed a duty of care to his son as to any employee."
The warehouse was locked and the fire service had to gain access for treatment to the injured son.
The father told the court he felt "guilt" and still suffers "flashbacks."
The judge told the jurors he would accept a majority verdict on the duty of care charge when they return for their deliberations on Monday.