Kyrece Marshall death: Boy drowned 'swimming to island'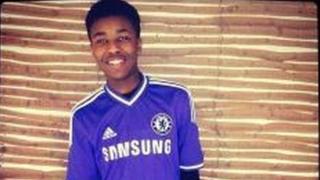 A 13-year-old boy from Buckinghamshire died trying to reach a small island in the middle of the River Thames, a coroner's court has heard.
Kyrece Marshall, from Marlowe, was swimming in the river with 10 friends on Tuesday 22 July but called out he could go no further.
He disappeared under the water and a search team later recovered his body from the river bed.
Coroner Richard Hulett recorded a verdict of death by misadventure.
At the inquest hearing in Beaconsfield, Mr Hulett ruled it would be "inappropriate and too upsetting" for Mr Marshall's friends to attend.
Safety equipment
Instead a written statement compiled by a friend called Nathan was read out.
He said 11 of them decided to swim out to the island on the first day of the summer holidays.
When the 13-year-old - also known as Kyrece Francis - called out, Nathan tried to help him but he went under the water.
Other witnesses said police divers recovered the body from the river bed and tried to resuscitate him but failed.
His family said they had not only lost a son but an "angel that would make everyone around him smile".
More than £10,000 has been raised in collections since Kyrece's death to be used to buy safety equipment for the riverside.