Halloween Stevenage house with 'extra gore' in charity bid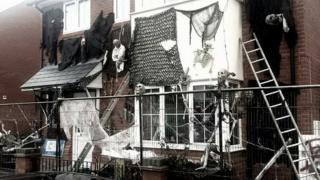 A man whose Halloween display "made children cry" last year said he has "gone extra gory so I go out with a bang" for what will be his last display in his current house.
In 2013, James Creighton's Texas Chainsaw Massacre display in Stevenage prompted complaints to police.
This year his Hertfordshire home is decked out with characters from horror film Saw and disembowelled bodies.
His displays have so far raised more than £5,000 for Cancer Research UK.
Mr Creighton, 26, has been decorating his Grove Road home every Halloween since 2009, with the displays becoming more elaborate each year.
Pride of place in his "Saw-inspired" theme goes to a £400 puppet of a character from the film, which he had especially made in America.
Body on slab
The 2004 horror features a serial killer nicknamed Jigsaw who issues instructions to his victims as they fight to survive deadly games he has devised for them.
"This year I've got added special effects including lighting, smoke and recordings of the killer's voice," Mr Creighton said.
He also has a model of a dead body lying beneath a sheet on a slab which mechanically rises and falls to surprise passers-by.
Despite "upping the level of gore", so far Hertfordshire Police said they had not received any complaints, although Mr Creighton is still displaying last year's disembowelled corpse - one of items police had to ask him to "tone down" last year.
The self-confessed "huge Halloween fan" began decorating his home to raise money for Cancer Research UK shortly after his grandmother died from the disease.
Adverse publicity surrounding his display last year helped increase the coffers for his chosen charity and spurred him on to make this year's offering "worse, not better, more scary than ever".
"Some people have said it's a bit over the top, but frankly it's a lot easier knowing I've not made any children cry this year," Mr Creighton said.