Family of Kiara Barker in Newton Longville burial row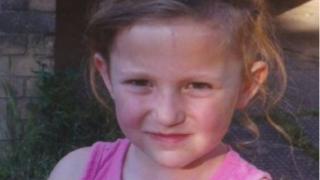 A seven-year-old girl who died from an asthma attack is at the centre of a burial row.
Ciara Barker, from Netherfield, Buckinghamshire, died on 20 October and her family wants her buried with other relatives at Newton Longville about five miles away.
The parish council said it would not be allowed because she did not live there.
The council said it had "offered alternatives" including putting her ashes in an existing family grave.
The girl's grandfather Ted Pym said the family had lived in Newton Longville for more than 50 years and five other members had been interred in the village burial ground, including his wife and her parents.
He said his daughter, the girl's mother, was born and bred there but they had "moved out because there was no houses for them".
The child's funeral is due to be held at St Mary's church in Newton Longville, but its cemetery is full and the parish council has to give permission for burials to take place in the nearby cemetery off Church End.
Mr Pym said the family was told the only way Ciara could be buried there is if she was "put in with one of the uncles".
"But his wife's still alive - it's a double grave and then we'd have the problem of where we are going to put her [when she dies]," he said.
"The other way is to cremate her and put the ashes in with my wife, but we want her buried so [her siblings] can visit her grave and put flowers on it."
A parish council spokesman said its policy since November 2007 had been to restrict burials at the site to residents due to the "limited space available".
"Given the sensitivities of this matter, the parish council has offered alternatives including the burial of the child or the interment of her ashes in existing family graves," a statement said.