Aylesbury Grand Union Canal fish moved to allow locks work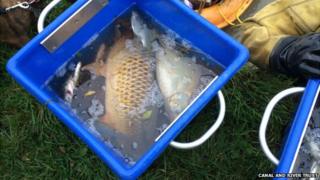 Hundreds of fish have been removed from the Grand Union Canal ahead of a six-month programme of restoration work.
Species including roach, pike, bream and carp have been moved from the Aylesbury arm so new gates can be installed at locks four and six.
The fish are being moved to other parts of the canal before the £127,000 upgrade can begin.
A Canal and River Trust spokesman said the fish were "temporarily stunned" before being taken away.
Waterway supervisor, Ralph Gregory, said the team used an electrical current to stun the fish.
"We then catch them in nets before they are transferred to large bins filled with fresh water and then safely emptied back into the canal outside the works area," he said.
"We can then get in the empty lock, carry out repairs and install the new lock gates, which are 25-years-old and weigh one and a half tonnes."
The move is part of the Canal and River Trust's £45m maintenance programme this winter to improve canals and rivers across the country.