Whipsnade Zoo keeper hand-raises Thomson's gazelle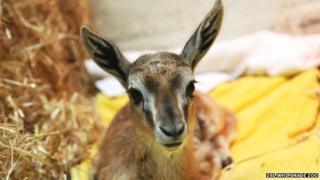 A newborn Thomson's gazelle has been hand-reared by a zoo keeper after being rejected by its mother.
Staff at ZSL Whipsnade Zoo, near Dunstable, said Larry became "very weak" when his mother stopped feeding him.
Larry was taken to a keeper's home to be bottle-fed day and night "as a last resort", team leader Mark Holden said.
The young gazelle is now said to be "doing very well" and is back at the zoo.
"As soon as we got some milk into him he started to improve," said Mr Holden.
Mr Holden set up a kennel in his living room for Larry to stay in and said having him there was occasionally a "little tricky".
Larry is now back with the zoo's group of Thomson's gazelles where he is getting "a lot of extra care", Mr Holden said.
"He's doing really well now, growing nicely and putting on weight," he added.
Thomson's gazelles are found in savannahs and grassland in Kenya and Tanzania.