Hertfordshire Police amnesty guns 'could be saved'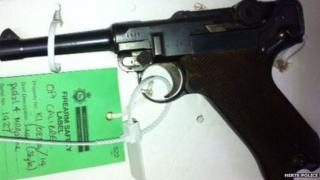 Guns handed in to Hertfordshire police during an amnesty could be donated to museums or provide a "windfall" for their previous owners, the force said.
More than 220 weapons were surrendered during November's two-week surrender.
Sgt Dan Stoddart said about five firearms would be valued and nearly 20 could go to museums instead of being "turned into razor blades" in the usual way.
"This way something good can come out of them," he said.
The amnesty followed the July law change which meant some who were holding antique guns lawfully were now no longer within the law.
All have been sent to the National Ballistics Intelligence Service (NABIS) for testing and to see if they match to crime scenes.
"Fewer guns on the street is better for me and the amnesty has reduced the possibility of them getting into criminal hands," said Mr Stoddart.
"But I know we destroyed some very valuable shotguns during our last amnesty."
'Decent legacy'
The officer said the oldest piece handed in was a musket made at the Tower of London in about 1840.
Other items included a 1916 German Luger and a World War Two Mauser and several guns, including a late 19th Century hammer shotgun, are thought to be of "significant value".
Most people left their details so the force will now check the back stories so if guns return from NABIS as "unsuspicious", they can be offered to relevant museums and any windfall can go to the original owner.
"Before, the force would blindly turn everything into razor blades and manhole covers," Mr Stoddart said.
"Now, we will do our best to honour what the owners wanted. If we can save a few for the nation and give other people a windfall that's a good thing."