Reverend Dr Tina Beloveth Powerful denies misleading students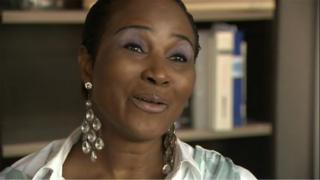 A reverend whose business school was involved in a trademark infringement row with US university Harvard has denied misleading potential students.
Dr Tina Beloveth Powerful, 46, from Milton Keynes, is alleged to have offered courses her college did not have the power to offer.
At Milton Keynes Magistrates' Court, Dr Powerful entered a not guilty plea before her case was adjourned.
She was released on bail ahead of the trial scheduled for 4 March.
The cases against both the businesswoman and her college, the Everest School of Transformational Leadership, were brought by Milton Keynes Trading Standards.
'Significant risk'
Dr Powerful is also accused of posting misleading statements on her website and offering degrees that were not properly accredited.
Magistrates decided they had enough powers to hear the case.
It is the fourth time the case has been heard at magistrates' court following three adjournments.
The name of Dr Powerful's college was changed from Havard to Everest after it was sued by Harvard University.
The infringement case was settled out of court.