Girl, 12, killed on Milton Keynes road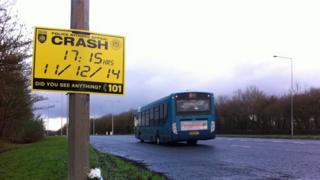 A 12-year-old girl has been killed crossing a road in Milton Keynes.
The girl, named as Neesha-Leigh Dundon by Stantonbury Campus school, where she was a pupil, was hit by a black VW Golf on Marlborough Street, V8, near Netherfield, on Thursday afternoon.
Thames Valley Police said the girl, who was in year 8 at Bridge South, run by Stantonbury, was pronounced dead at the scene.
The driver, a man in his 30s also from Milton Keynes, was not injured.
The school said Neesha-Leigh was a "vibrant young student who embraced life at school".
"She had a good sense of friendship and would always see the good in people. We will miss her smiles and laughter," a statement said.
"Our thoughts are with family and friends at this very difficult time."
A spokesman said principal Chris Williams had spoken to Neesha-Leigh's parents and students were told the news on Friday morning in special assemblies.
Pastoral support was being made available, he added.
Police officers are appealing for witnesses.