Milton Keynes Winter Wonderland visitors and firms await refunds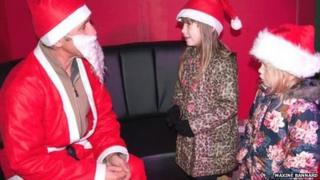 Visitors to an ill-fated Winter Wonderland event say they are still awaiting refunds, a year after it was cancelled.
The Milton Keynes attraction was inundated with complaints about the Santas, its ice rink and reindeers when it opened on 14 December 2013.
Businesses which took part in Winter Wonderland MK are also owed money.
Organiser Lorenzo Franco, who promised refunds to visitors, has not responded to BBC requests for a comment.
Customers had complained a Santa's Grotto had been staffed by young, thin men who looked like they were wearing cheap outfits.
Jenny Blair, who took her three sons including nine month old Sullivan to the event, in Campbell Park, lost £30 and said she found it "dispiriting".
She said: "Last year was my little one's first Christmas and it was totally ruined."
The ice rink had no ice, there was a lacking of seating, no refreshments and only one ride, she said.
"The animals were in a very, very small pen, with no hay or blanket for them," she said. "It was just horrific."
Jeni Dowman, who also lost money, said: "It was supposed to be a magical day for three generations of the family."
Businesses also lost out, with Northampton-based D&D Marquees owed £3,000 and Any Occasion in Sharnbrook - which supplied the toilets, power and lighting - £6,000.
Caddington-based The Lollipop Girls, which specialises in candy carts hire, faced near bankruptcy.
Owner Sarah Eacope said she spent £1,350 on extra equipment after Mr Franco told he was expecting 3,000 people a day.
She said: "I think Mr Franco was a very naive man who did not understand what Christmas is for the children or how to make it magical.
"I could have made a better Winter Wonderland in my back garden."
A trading standards investigation into Mr Franco resulted in him being given a caution for misusing logos belonging to Arriva buses and MK Dons. He paid costs of £844.29.
A spokesman for Milton Keynes Council said the issue of refunds was a civil matter between customers and Mr Franco.