Pinewood expansion: Parish vows to work in 'partnership' with studios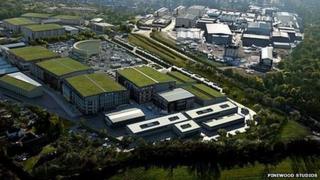 A parish council opposed to the expansion of Pinewood Studios says it now wants to work in "partnership" with them as building is set to begin.
South Bucks District Council agreed the £200m development after the government granted outline planning permission following an appeal.
Iver Parish Council, which has fought the plans for about six years, said it was now about "damage limitation".
We want to "extract some benefits" from the studio, said a spokeswoman.
The expansion project, known as the Pinewood Studios Development Framework (PSDF), will double the existing studios by adding a total of 100,000 sq m of new facilities, including 12 large stages, workshops and production office.
Nearby councils opposed the plans as an expansion into greenbelt land.
In 2012, the government rejected a previous plan, which included more than 1,000 homes.
The studio submitted its latest application in February 2013, which was rejected by the local council. The studios appealed to the Planning Inspectorate the following May.
The government granted planning permission for the 15-year project in Iver Heath in June.
Ms Lowe said the parish council decided not to fight the government's decision.
She said the issues include extra traffic, with lorries going down narrow lanes and mounting the verges and some residential roads being used as rat runs.
"We want to say how it will impact on us and what things we would like to see done," she said.
"We can't do anything about [the development] now so it is damage limitation and to see if we can work in some sort of partnership.
"Feelings are still running fairly high but it's about trying to make the best of a bad thing.
"There will be a lot of watchful eyes on it."
The studio is yet to comment.