NHS boss Samantha Jones has 'walked away', MP Ann Main says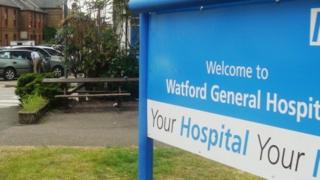 An MP has accused an outgoing local NHS boss of "walking away" at a critical time.
St Albans MP Ann Main said she was "absolutely shocked" West Herts Hospital Trust (WHHT) chief executive Samantha Jones was standing down.
She said a review led by Herts Valley Clinical Commissioning Group (CCG) was a "consultation for fundamental change" and needed stability.
The trust said the consultation was not due to start until the autumn.
Ms Jones, who oversees Watford, St Albans and Hemel Hempstead hospitals, joined the trust in February 2013, replacing Jan Filochowski.
She has been appointed director of New Models of Care for NHS England, and will leave on 16 January.
'Absolutely shocked'
Jacqueline Kelly, the former chief executive of Northern Devon Healthcare NHS Trust, will replace her on an interim basis.
Conservative MP Ms Main said: "I am absolutely shocked that Ms Jones is leaving at such a crucial time for the Trust.
"WHHT is undergoing a consultation for fundamental change that will reshape our local health service.
"I am angry that my constituents who met the boss last month, and sought Ms Jones's assurances on the future of their local health service, may feel they have been let down by the instability this has created."
Antony Tiernan, from WHHT, said the trust was part of the CCG's strategic review of the future of healthcare across west Hertfordshire.
"The review is expected to last until at least the end of 2015," he said. "The consultation Anne is referring to has not been launched yet and it's not due to start until the autumn.
"This has been explained to [her] previously."