Escaped rhea bird evades police capture in Brent Pelham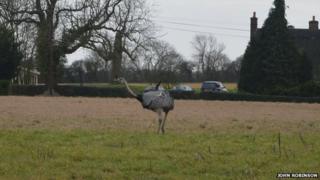 An escaped rhea bird thought to have been spotted after nearly a year on the run has evaded capture because police officers "could not keep up with it".
The 6ft bird was seen by a member of the public in the Brent Pelham area of Hertfordshire on Sunday morning.
It is believed to be one of two that escaped from an Essex property in February last year.
Police said officers visited the area but it "ran away before containment measures could be put in place".
'Spooked and scared'
Rheas, which originate from South America and are similar to ostriches, can run at a speed of up to 40mph.
East Herts Rural Police tweeted: "PC Watson & PCSO Steve have located the rhea, the problem is they can't keep up with it."
The force said it was the owner's responsibility to find and capture the birds but police would get involved if they "posed a danger to public safety".
It has advised the public not to approach the creatures but to call police on the non-emergency number if either of them are spotted.
"Like any wild animal, they may become spooked and scared," a spokesman said.
"This may cause them to run into a road or cause a danger to others."
Last May, a rhea which escaped from a smallholding close to the Essex/Hertfordshire border was shot at Barkway Park Golf Club near Royston, by a gamekeeper.