Man dies after crash outside Harpenden Sainsbury's store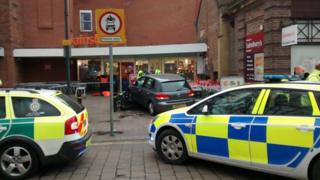 A pedestrian has died after being hit by a car outside a supermarket.
The man was hit by a grey Volkswagen, outside Sainsbury's on Bower's Parade, Harpenden, at about 11:30 GMT, police said.
An ambulance service spokesman said the pedestrian in his 60s "had suffered serious head and chest injuries" and was declared dead at the scene.
Two people in the car, one of whom was an elderly woman, have been taken to Luton Hospital.
Harpenden High Street, between Sun Lane and Vaughan Road, was closed following the crash, but has been re-opened.
An air ambulance landed on Harpenden Common, close to the Harpenden Arms, in order to treat the man who later died.
The East of England Ambulance Service sent two ambulance crews, a rapid response vehicle and two ambulance officers to the scene.