Golden eagle Norman: Missing Bedfordshire bird found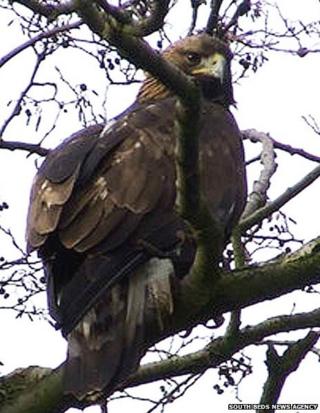 A golden eagle that escaped from a Bedfordshire falconer has been found.
Norman was on loan to Allen Smith, 65, when he took flight from the falconer's workplace in Flitwick last week.
The bird has been located at Center Parcs, near Flitwick.
Mr Smith told the BBC that on Saturday he would return to the site, where the bird was roosting in a tree.
Norman stands roughly 3ft (0.9m) tall and boasts a 6ft (1.8m) wingspan.
The bird had been spotted in Stewartby, about five miles from Flitwick, and Lidlington.
Mr Smith said at the time the bird went missing: "He had just been fed when he disappeared and he's quite scared of people so I don't think anyone should panic."