Shefford cafe's singing polar bear 'not gagged' after probe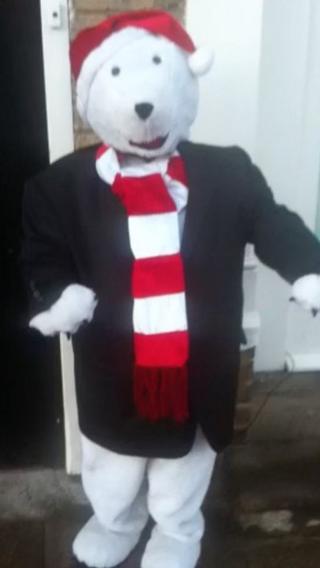 A six-foot mechanical singing and dancing polar bear investigated by a council over "noise nuisance" should not be "gagged", a council has ruled.
The bear - named Bernard - burst into song when people walked past Loft Cafe in Shefford, Bedfordshire, over the Christmas period.
Central Bedfordshire Council said it had followed up a noise complaint and "didn't find any issues".
The cafe owners' son Connor Farndon said: "He'll be back again next year."
Bernard sings snippets of five or six Christmas songs, including Andy Williams' It's The Most Wonderful Time of the Year, and is activated either by movement or by pressing a button.
'Packed away'
He stood outside the cafe in Northbridge Street in December "to get people in the Christmas spirit" and was put away at 16:00 GMT every day.
But a council enforcement officer told owners Rob and Teresa Farndon there had been a complaint about noise and said it had written to both parties as part of an ongoing investigation.
Environmental health officers have since visited the site a number of times and decided the bear "wasn't deemed a noise nuisance".
A spokesman said: "We didn't find any issues when we visited and he wasn't gagged.
"We understand he has now been packed away."
Connor Farndon confirmed the council had given Bernard the all-clear and said the bear had become a "local hero" after the complaint.
"Everyone really got behind him," he said.
"Providing he still works he'll be back again next year.... that's the end of it as far as we're concerned."