Olympic champion Greg Rutherford carries injured deer home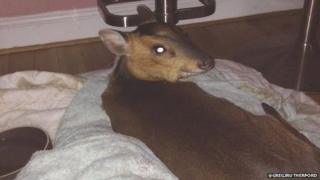 Olympic long jump champion Greg Rutherford carried an injured deer about two miles to his home in a bid to save its life.
The athlete, who lives in Woburn Sands, Buckinghamshire, tweeted that the "poor little thing" had a broken leg and he was waiting for the RSPCA to help.
He later revealed the muntjac "had to be put to sleep due to her injuries".
The London 2012 gold medallist said it was a "really sad day" and called the animal his "new best friend".
In a series of tweets, the athlete, 28, said he had named the deer either Melvin or Doris as he initially wasn't sure if it was male or female.
The RSPCA was informed but he later took the deer to Tiggywinkles Wildlife Hospital in Haddenham, near Aylesbury.
He told followers its leg had been put in a splint and that hospital staff were "hopeful he/she will live".
But he later expressed his sorrow that the animal had died.
He said: "Really sad day today. Doris the injured deer I brought home yesterday had to be put to sleep due to her injuries."
Tiggywinkles said the leg break had been "fairly minor" but the deer's pelvic injury was "beyond repair".
A spokeswoman said: "It was too extensive. Normal bodily functions couldn't have happened and it was decided it was kindest to put her to sleep.
"We are tremendously grateful to Greg because his actions meant she didn't suffer for too long.
"They are not easy things to carry; they are very heavy and cumbersome - you need an Olympic athlete."