Red Bull offers £10,000 reward after Milton Keynes factory break-in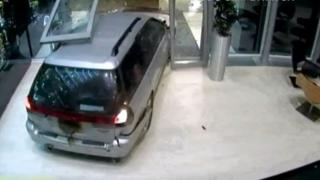 Red Bull Racing has offered a £10,000 reward for information leading to the conviction of those who stole 60 trophies from its Milton Keynes base, police said.
Footage of thieves who used a 4x4 to smash through the doors of the Formula 1 team's factory in December was shown on BBC Crimewatch on Wednesday.
About 20 of the trophies were later recovered from a lake in Berkshire.
Thames Valley Police said it had a "positive response" from the appeal.
A spokesman confirmed the Formula 1 team had put up the reward and revealed it had a dozen calls on the night of the broadcast.
Six men broke into the site in Bradbourne Drive, Tilbrook, in the early hours of 6 December.
Some trophies were recovered from Horseshoe Lake, near Sandhurst, ten days later after being spotted by a member of the public.
The stolen trophies did not include the F1 championship and constructors' awards, which were not at the factory.
Christian Horner, Red Bull's team principal, told the BBC the monetary value of the trophies was "minimal" but "the emotional value is huge".