West Hertfordshire NHS Trust sorry for 'wrong body' mix-up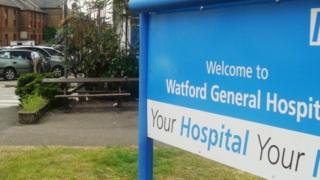 A nurse wrongly told a man his father had died and took him to see the body, only for it to be that of another patient, a report has revealed.
West Hertfordshire Hospitals NHS Trust has apologised for the mistake, calling it a "tragic" case of human error.
The mistake was revealed in a serious incident report seen by the trust's board.
The trust said a "simple flow chart" was being produced to prevent future errors.
In a section entitled "Giving bad news to the wrong family," the report revealed that the man's father had not actually died.
The report did not state when the mix-up took place or at which of the trust's three hospitals, Watford General, St Albans City or Hemel Hempstead.
It said: "The wrong relative was phoned and told his father had passed away when he hadn't; he was then taken to view the body of this patient on arrival to the ward."
The flow chart would "assist staff in checking that they are calling the right family to share bad news", the trust said.
The report also suggested that when relatives arrived at hospital, a double-check was performed to confirm the details of the deceased prior to viewing.
Chief nurse, Prof Tracey Carter, said: "We have offered our sincere apologies to the two families involved.
"Our nurse made an extremely rare, human error which had a tragic impact on the families of both patients. The staff member was extremely distressed that they made this error."
She said staff had been reminded about the importance of double-checking the name of a patient before calling relatives.