Hertfordshire Local Enterprise Partnership lobbying firm spend criticised
A taxpayer-funded consortium spent more than £80,000 on external consultants to help it lobby MPs, MEPs and civil servants, the BBC can reveal.
Hertfordshire Local Enterprise Partnership (LEP) used lobbying firm Bellenden in bids for government cash.
Deputy Prime Minister Nick Clegg criticised the use of "well-heeled consultants", while MP Stephen McPartland said it was a "scandal".
The LEP said the meetings were "led by members" of its "board and team".
It said the work of Bellenden included "co-ordinating meetings and events" with Hertfordshire MPs, local MEPs and civil servants.
'Absolute scandal'
The company also took notes and helped with "written communications", the LEP said.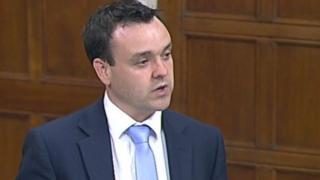 Mr McPartland, Conservative MP for Stevenage, said: "I think it is an appalling use of taxpayers' money. It's an absolute scandal.
"There should be a full inquiry and complete transparency over what money was used, who was paid, what meetings were held, who took the minutes of those meetings. And it should all be put in the public domain."
---
What is lobbying?
The UK Public Affairs Council defines public affairs services as "lobbying or advice on lobbying... (or) services with intent to assist lobbying".
Lobbying includes "attempting to influence, or advising those who wish to influence, the UK Government, Parliament, the devolved legislatures or administrations, regional or local government or other public bodies on any matter within their competence".
---
Mr Clegg, Liberal Democrat leader, said: "My door is always open to LEPs. Other ministers I know speak to LEPs all the time so heaven knows why they need pay well-heeled consultants to do that job for them."
'Cost effective'
The government-funded LEP is made up of businesses and local authorities, and bids for central government investment in roads, business and housing in the county.
Ministers have announced an extra £22.3m of funding to be allocated to the LEP through the Growth Deal, to be spent on a range of projects including regeneration schemes in Hatfield and Bishop's Stortford.
Bellenden's contract with the LEP began in January 2014 and runs to the end of this January, and cost £80,592.59 over that period.
Hertfordshire LEP said using the firm provided "a cost-effective way... to professionalise its communications at an extremely busy time and to keep local and national stakeholders updated on our objectives and our progress".
All lobbying firms are required by their professional bodies to publish a list of "clients for whom public affairs services are provided" on the UK Public Affairs Council's (UKPAC) register, and Bellenden lists Hertfordshire LEP among it clients.
Three other LEPs are mentioned on the register, including Cornwall and Scilly Isles LEP, which are listed as working with the consultancy Edelman. Instinctif Partners lists Coventry and Warwickshire LEP and Thames Valley Berkshire LEP among its clients.
Bellenden declined to add to the LEP's statement.