Man jailed over £1m jewellery shop burglary conspiracy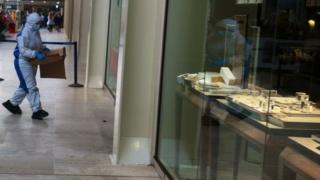 A man has been jailed for his part in the burglary of jewellery shops in Hertfordshire and Buckinghamshire.
Gheorghe Cretu, 26, of no fixed address, pleaded guilty to conspiracy to commit a burglary at Aylesbury Crown Court and was sentenced to two years and three months in prison.
Three stores in Watford were targeted on 29 August, and one in Milton Keynes on 16 October.
Charges against two other men accused of the same offence were dropped.
No jewellery recovered
Cretu was charged after an estimated £1m of jewellery was taken from Leslie Davis Jewellers in Eagle Walk in centre:mk in October.
A similar raid was carried out in August, when thieves broke into Watford's intu centre in the early hours and stole jewellery and watches from several shops.
The Crown Prosecution Service decided in December to offer no further evidence in the case against Bogdan Acsinte, 28, of Colegrave Road, Stratford, and Robert Caia, 27, of Prosser Street, Wolverhampton, after receiving outstanding forensic results.
A spokeswoman said: "The CPS decided that there was insufficient evidence for a realistic prospect of conviction and the suspects were released from custody."
No jewellery has so far been recovered from either raid.
Hertfordshire Police said they were "not actively looking for anyone else in relation to the two incidents".