Dappy avoids jail for breaking probation conditions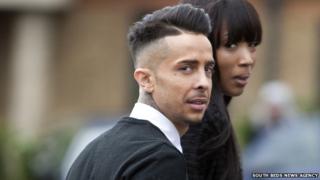 The former N-Dubz star Dappy has avoided a jail term for breaking probation conditions.
The singer, real name Costadinos Contostavlos, 27, admitted two charges of breaching rules imposed as part of a suspended sentence for punching a man at a nightclub.
St Albans Crown Court heard he missed a meeting with a probation officer and arrived late for a workshop.
The judge said he would be "locked up" if he broke the rules in future.
He was ordered to pay £1,200 in fines and costs.
Contostavlos, from North Mymms, Hertfordshire, had been spared a jail sentence at Guilford Crown Court last November for punching Devonn Reid at Evissa in Reading on 6 October 2013.
He was handed a two-month sentence, suspended for 12 months.
The artist, a cousin of fellow former N-Dubz star Tulisa, was also given a four-month curfew to be at home between 22:00 and 05:00 and ordered to attend a Thinking Skills Programme (TSP).
The court heard he did not attend a meeting with a probation officer in December and arrived late for a TSP group workshop in the same month.
'Shape up'
Helen Flavell, from the Hertfordshire Probation Service, said: "He appears to have prioritised other things over his attendance on the programme."
She said that there had also been 10 breaches of his curfew which amounted to two hours and 15 minutes.
For his defence, Jon Harrison said arriving late for the workshop was not a "flagrant breach" and he had not caused the group session to be stopped.
Judge John Plumstead told the defendant he must "shape up and behave".
He said: "What you did is a form of rudeness.
"If he breaches the conditions again he will be locked up. It is in his hands."
As he left court, Dappy said he had now "got to take it seriously".