RAF ex-wife Helen Nicholas' eviction delayed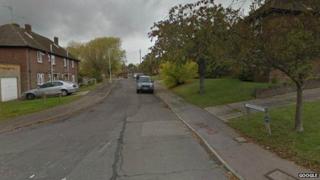 The ex-wife of an RAF officer who is refusing to move out of her married quarters has had her eviction delayed so she can appeal to the Supreme Court.
Helen Nicholas, 46, claims the Ministry of Defence (MoD) violated her human rights when it served her with notice to leave her Bushey Heath home in 2008.
This week the Court of Appeal ruled the MoD was right to demand she leave.
But the judges ordered her eviction be put on hold to allow her to apply for permission to submit another appeal.
Sqn Ldr Andrew Nicholas, who had no formal tenancy agreement, moved out of the three-bedroom house in Thorn Avenue in 2007, and in May 2008 Defence Estates told his wife she must leave.
'Risks homelessness'
Mrs Nicholas, who was married for 15 years, argues the MoD's stance breaches her right to respect for her home and family life.
Her barrister Toby Vanhegan said: "She has lived at the property for years, has gone through difficult divorce proceedings, has no other accommodation and risks being street homeless if evicted from the property."
MoD lawyers argued security of tenure for Mrs Nicholas and others like her would "interfere with military effectiveness" as it "could prevent rapid redeployment of services personnel".
Appeal Court Judge Lord Justice Lewison ruled she had been treated no worse than a private tenant in the same position.
An MoD spokesman said: "When a resident is no longer entitled to live in accommodation, because of a marital breakdown or they have left the military, then it is made available for the next service family."
Mr Vanhegan said if the Supreme Court refused to hear the appeal, lawyers would look to the European Courts in Strasbourg where the case could be considered under human rights legislation.