Milton Keynes Council apologises for shock respite care charge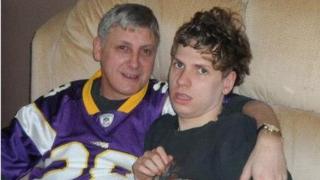 A father charged for respite care he could not afford for his severely autistic son has received an apology.
Paul Ridley, 49, from Wolverton, stopped sending son Keith, 26, for respite after receiving a bill without prior warning of the amount.
The Local Government Ombudsman has now ordered Milton Keynes Council to pay Mr Ridley compensation of £100.
The council said it had made a mistake in failing to notify him of the amount and apologised "unreservedly".
The authority will also have to write to all carers offering them a refund.
"The council puts its hands up to this one - we made a mistake," said a spokesman.
"We realise this has caused upset and confusion, and we apologise unreservedly not only to Mr Ridley, but anyone else who feels they were caught unawares by these changes."
The council originally decided to charge for respite care in February 2014 and wrote to carers to tell them of the plans.
But it did not tell them exactly what their contribution would be. For this it has now apologised.
Food or respite care
Mr Ridley, who did not previously pay for Keith's respite, received a bill for £71.57 on 12 July 2014.
Unable to afford the care and unsure what he would be charged in future, he stopped sending Keith to the respite service for three weeks.
"We had to choose between respite and food," he said.
During that time Mr Ridley suffered a heart attack, which he attributed to the extra stress of looking after Keith, who also has epilepsy.
He said: "No-one gets a service without being told what they have to pay for it first. £71 was a lot and we could not prepare for it.
"Not sending him broke Keith's routine and we had to pay the price for that."
The Ombudsman said the council would have "to waive or refund contributions for respite breaks taken before it advised an estimated contribution".
A council spokesman told the BBC it should have "communicated much more clearly" and would now make sure it kept clients "fully informed of any changes... related to their care".