Tempsford fatal air crash: Pilots saw each other too late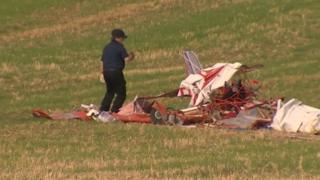 Pilots of planes that collided in mid-flight did not see each other until it was too late, investigators said.
Stephen Spavins died when his Denney Kitfox G-TOMZ hit a Cessna Cardinal and crashed into a field at Tempsford, Bedfordshire, last September.
The other pilot, who survived, told the Air Accident Investigation Board (AAIB) he did not see Mr Spavins' plane until it was about 20ft (6m) away.
The AAIB said a low sun position may have contributed to the problem.
Mr Spavins, 46 and from Lincolnshire, had taken off from his private air strip just before 08:00 BST on 23 September and was heading for Sandy Airfield.
He often used his two-seat light aircraft to commute to work, investigators heard.
The 56-year-old pilot, who has not been named prior to an inquest into Mr Spavins' death, of the four-seat Cessna Cardinal F177RG G-AZTW had taken off from Fowlmere Airfield heading for Sywell Aerodrome on a route he also regularly made.
He told investigators he suddenly saw a red, light aircraft that he "thought was climbing towards him".
Considering a "collision was imminent", he pulled the control panel back and to the left.
He thought Mr Spavins had not seen his aircraft because he did not appear to have taken evasive action, he told investigators.
The tip of the right wing of Mr Spavins' plane then hit the G-AZTW's propeller, the report said.
Nearly half of the G-TOMZ wing was found over a wide area, suggesting the damage had been caused in the air.
'Multiple injuries'
After the collision, the second pilot regained control and landed at Bedford Aerodrome. He was shaken but uninjured.
Mr Spavins crashed into a field at Rectory farm near the Black Cat roundabout on the A1 at about 08:30 BST.
He was pronounced dead at the scene. A post-mortem examination concluded he died as a result of multiple injuries caused by the crash.
The investigation concluded the accident occurred because neither pilot saw the other aircraft "in sufficient time to take effective avoiding action".