Stevenage Lister Hospital smear tests: 20,000 re-checked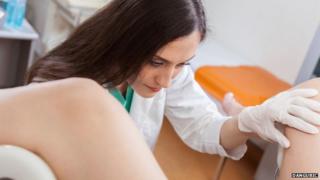 The NHS is re-checking 20,000 smear tests and expects about 1,000 women to be called back in for another test.
The samples were tested at the Queen Elizabeth II Hospital in Welwyn Garden City between July 2013 and March 2014.
The NHS said the re-checks were needed because one of the tester's results had fallen slightly below the 90% target for accuracy.
The service has written to patients who need to return and apologised for any inconvenience or anxiety caused.
The East and North Hertfordshire NHS Trust, which runs the hospital, said samples on slides were always tested by two people with the aim of increasing accuracy.
They try to detect abnormal cells, which could develop into cancer.
Error rate
The NHS quality assurance team found one of the tester's accuracy rating fell to 89%, so checks were carried out on slides that person had worked on.
The hospital said 93% of the 20,000 slides had been re-checked so far and there had been an error rate of just under 5%.
Jane McCue, the trust's medical director, said: "When we received the report from our quality assurance colleagues, it was right that we erred on the side of caution and reviewed the identified cervical screening tests.
"The aim was to confirm the results given to the women involved at the time were right.
"Early detection is known to help improve chances of any cancer detected being treated successfully, which is why we have acted promptly to ensure that confidence in the quality of our local screening programme is maintained."
The trust said that of the 1,000 women called back for a repeat test, about 90% would be given the all-clear.