Willen Village Surgery future to be resolved next month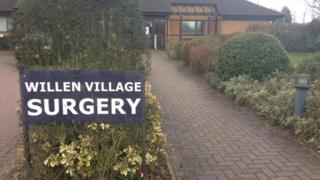 Thousands of patients forced to travel miles for medical treatment after a surgery in Milton Keynes shut suddenly will get new arrangements next month.
Willen Village Surgery was shut without warning when its only GP decided to retire in April 2013.
A GP had been suspended over a fitness to practice issue the November before and a replacement could not be found.
Health chiefs have pledged to reach a decision on the surgery's future by the end of March.
In early February, a meeting of local people was called by an action group hoping to reopen the surgery in Willen.
Local businessman Duncan Mason has offered to buy the premises and a nearby GP practice said it would provide doctors for a satellite surgery.
About 100 local people attended the open meeting and said the way patients had been allocated a new surgery had been badly handled.
It was done alphabetically and some families living in the same house but with different surnames had been transferred to different surgeries.
Some elderly people without access to public transport had been allocated places at surgeries difficult to reach.
A spokesperson for NHS Milton Keynes Clinical Commissioning Group and NHS England said: "A number of proposals have been developed by local GP practices across Milton Keynes to increase capacity across primary care and improve access."