David Pleat's Luton Town desk sold for £521 on eBay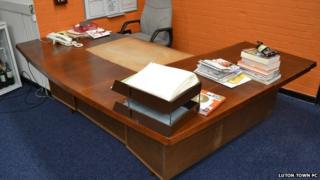 A manager's desk dating back to the "golden days" of Luton Town football club has sold for £521 on eBay.
The club said the "executive desk" had become "surplus to requirements" following refurbishments.
It was first used by boss David Pleat in 1978, who took the side into the top flight of English football.
Club chairman Nick Owen said: "I would say it's been there for about 40 years so the action it's seen over that time is just amazing."
The Midlands Today presenter, who became chairman of the club in 2008, said he believed the desk had seen Luton go through 12 promotions and relegations.
"It's seen us win two cups, the Littlewoods Cup at Wembley in 1988 and the Johnstone's Paint Trophy in 2009, let alone the different managers we've had, including David Pleat who was possibly our greatest," he said.
"The desk would have also witnessed a few shouting matches and disputes, as well as marvellous moments of celebration, and perhaps the odd glass of bubbly's been spilt on there at times.
"It's sad in a way to see it go but [current] manager John Still deserves a new desk after all he's done for our club."
The League Two club, nicknamed "The Hatters", has been based at Kenilworth Road in Luton since 1905.
During the 1980s, the club was promoted from the Second Division, and won the League Cup in 1988.
The desk was used by several managers, including the late Ray Harford and current boss John Still.
Club spokesman Ed Smith said putting the desk up for sale was "a bit of fun".
"It's a special piece of furniture - it's got history.
"We thought it might be quite appealing to someone who's got a house big enough."
The item attracted 28 bids on the online auction site, and Mr Smith said the money would be used to support club projects.
"It's about what we expected it to go for, we were really pleased by how the desk caught the public's imagination and pleasantly surprised by the attention," he said.
"I would assume it's been bought by a fan. There might have been interest from collectors, but we won't know for sure who's bought it until delivery."