Lealands High School pupils 'took legal highs' before school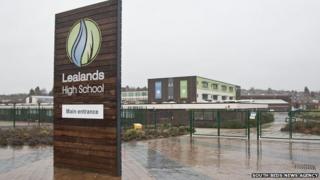 Six pupils taken to hospital after arriving at school are believed to have taken legal highs.
The students became "very unwell" at Lealands High School in Luton shortly after the start of the school day on Thursday.
All six have since been discharged from Luton and Dunstable Hospital and are expected to make a full recovery.
Head teacher John Burridge said it was "very concerning and worrying for us all".
The Sundon Park Road school has just under 1,000 pupils aged between 11 and 16-years-old.
Three ambulances were called just after 08:30 GMT when one of the students went to the medical room saying he felt unwell.
After calling an ambulance, it emerged other students, from different year groups, were suffering similar symptoms.
Health 'concern'
Bedfordshire Police said it was thought the students had taken the substances early that morning.
Det Sgt Sandra Evans said officers had been called to the school over "concern for the health" of the pupils who had fallen unwell after taking "what was believed to be a legal high".
"We'd like to take this opportunity to remind people that just because a substance is marketed as being 'legal', it does not mean it is safe," she said.
"It's not always clear what ingredients such substances are made up of, or what effect it is likely to have on you."
In a letter to parents, Mr Burridge said: "We will be liaising with the families and the police, as well as ensuring all of our students are fully aware of the dangers of so called "legal highs"."
Support has been offered to any pupils who have concerns over the incident, he said.