'World's oldest barmaid' Dolly Saville dies, aged 100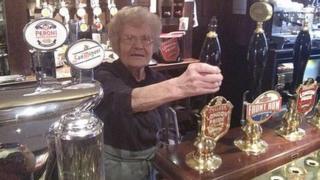 A woman thought to be the world's oldest barmaid has died less than a year after celebrating her 100th birthday at the pub where she worked for 75 years.
Dolly Saville first pulled pints at the Red Lion Hotel in Wendover, Buckinghamshire, before World War Two.
Pub owner Fuller's Inns said she was "a huge part of the community".
She was still on the payroll but had not done a shift for a couple of weeks before her death, a spokeswoman said.
Mrs Saville arrived in Wendover aged three and started working at the hotel before World War Two.
She served a number of well-known people including ballerina Dame Margot Fonteyne, footballer Sir Stanley Matthews and former prime minister Sir Edward Heath.
'True asset'
She celebrated her 100th birthday last April with a party at the pub.
At the time she said working kept her feeling young and she had no intention of retiring.
"[If anyone asked] I wouldn't listen to them and they know I wouldn't - this is my second home," she said.
Managing director of Fuller's Inns, Jonathon Swaine, said: "[Dolly was] a true asset to the Red Lion and Fuller's alike.
"Our thoughts are with Dolly's family, her colleagues and indeed her faithful customers at this difficult time."