Aqeel Khan murder: Accused, 16, fought with victim, court hears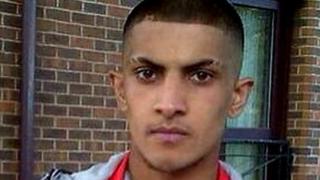 A 17-year-old boy accused of murdering another teenager was seen fighting with the victim moments before he was fatally stabbed, a jury has heard.
Aqeel Khan, 18, died from a single stab wound in Croxley View, Watford, on 22 August last year.
The defendant told Luton Crown Court he was not at the scene.
But witness Kirsty Hughes said she saw the accused, who denies murder, being chased by Mr Khan and others following an argument on the Holywell estate.
The court heard violence erupted in Tolpits Lane because of "bad feeling" between the defendant and two members of the chasing gang, but not Mr Khan.
'Punches thrown'
Prosecutor William Mousley QC had told the jury the defendant swung a sports bag at a group of men and hurled a stone at one of them before running away.
Mr Khan had only just arrived but was first to catch up to the teenager when the group gave chase, Mr Mousley said.
"Aqeel Khan was the one who got the closest and the defendant was seen to strike out at him," he said.
Ms Hughes said she was walking with a friend towards Tolpits Lane when she saw the defendant running down Croxley View, with "a male running behind him".
The pair stopped and started throwing punches at each other, she said, but she saw "no contact" before three or four other males came running towards them.
"Then I saw the second male drop to the floor," she said.
"They tried to help him up and he dropped down a second time and they all ran off."
Mr Khan had been stabbed between his shoulder blades and the knife had damaged his pulmonary artery, the court heard.
The teenager, who was 16 at the time, denied any wrongdoing in a prepared statement submitted after he was arrested.
He said he had not been present when Mr Khan was killed.
The case continues.