Bedfordshire police inspector fined for assault but cleared of sexual assault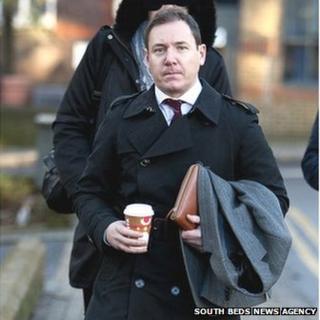 A police inspector found guilty of assaulting a woman has been cleared of sexual assault.
Paul Kelly, 44, from Denton, Northamptonshire, had the case against him dropped at St Albans Crown Court due to a lack of evidence.
Kelly, who worked for Bedfordshire Police in Bedford, was fined £500 after being found guilty of actual bodily harm in December 2014.
The result could not be reported until the sexual assault case finished.
Kelly remains suspended by Bedfordshire Police pending the result of an internal review.
He had been convicted at the same court of assault causing actual bodily harm in relation to an incident in London in November 1998 when the woman suffered an eye injury.
'Sexual assault'
At his trial he had also been acquitted of six sex offences, which were alleged to have been carried out between 1996 and 2003 and involved two women.
Judge John Plumstead had ordered the case could not be reported because of a further sexual assault allegation.
However, prosecutor Simon Wilshire said the Crown would not be offering evidence and the judge directed Kelly be acquitted of that charge.
At his trial in December Kelly had denied all the offences.
A spokesman for Bedfordshire Police said: "The officer still remains suspended from Bedfordshire Police while an internal review is carried out.
"Therefore at this stage it would be inappropriate to comment any further."