Luton church plan for derelict ABC Cinema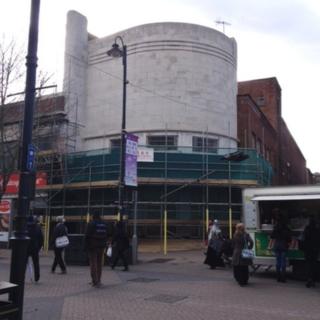 A derelict cinema in Bedfordshire could be turned into a church if plans are approved.
The ABC opened in George Street in Luton in 1938, but has been empty since closing in 2000.
Plans submitted to Luton Borough Council state the building would be used by the Pentecostal Church and retain only parts of the Art Deco structure.
A decision is expected to be reached next month.
The ABC opened as the Savoy in 1938 with plush carpets and chandeliers.
Although it was converted to a three-screen cinema in 1971, it was unable to compete with modern multiplexes and closed in November 2000.
The conversion plans only include the downstairs and upstairs foyers and the upstairs of the adjoining building. The three auditoriums would be sealed off.
The proposed building would be "sympathetic to the existing town centre... and would benefit [it] in general", the application said.
Residents have reacted to the plans on social networking site Facebook, with one saying: "Better to be used as a church and cleaned up than lying in disrepair."
Another wrote: "Whilst I have nothing against any religion it's disappointing to see such an historic and iconic [building] potentially being used in such a way."
The borough council will consider the plans at a meeting in April.