Hole appears next to The Mount prison in Bovingdon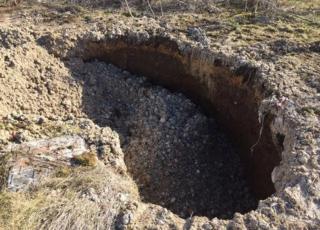 A large hole has appeared in the ground next to the perimeter fence of a prison in Hertfordshire.
The cavity, just outside HMP The Mount in Bovingdon, first appeared in January and was filled in but recently re-emerged, the Ministry of Justice said.
It would not confirm the dimensions which are believed to be about 6ft (1.8m) wide and 15ft (4.5m) deep.
A spokesman said there was "no risk" involved and it was "working to resolve" the issue.
"There is no risk to members of the public, prisoners or prison staff as the area has been fenced off and is on private property with no public access," a statement said.
The Mount, which opened in 1987, is classed as category C which, according the to the Prison Reform Trust is where "prison staff think [inmates] will not escape, but that [they] cannot be trusted in an open prison".
'Very concerned'
The hole appeared in a small wooded area in land owned by the Ministry of Justice next to the 770-capacity institution.
Brian French, who lives nearby, said it happened "all of a sudden" and he was "very concerned".
"One day it wasn't there, the next day it was," he said.
"They blocked it all off and they filled it in once but three days later I went to have a look and it was all gone again."
Work is now under way to refill the hole but Mr French said "without a doubt it will appear again".
"I can't see it making any difference because that's where it floods away into the [nearby] reservoir and that's where it's going to flood away again."
A similar crater opened up in nearby Hemel Hempstead last February.
Preliminary investigations showed the hole in Oatridge Gardens was probably caused by mining in the area a century ago.