Milton Keynes hospital inspection reveals 'unsafe procedures'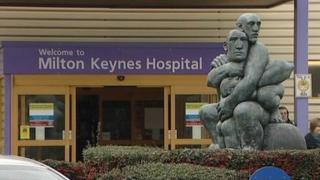 A hospital serving 252,000 people in Milton Keynes has been rated as "requiring improvement" after an inspection by an NHS watchdog.
Singled out for special attention at Milton Keynes Hospital NHS Trust were "concerns over storage of toxic waste" and a failure to meet targets in A&E.
The Care Quality Commission visited the hospital in October and November 2014.
Inspectors noted outstanding leadership in surgery and good bereavement practices with parents who lost babies.
But they also saw toxic waste on the Macmillan Cancer Unit was stored in a room that was not locked and there was poor maintenance of patient records.
Patients in the medical assessment ward in A&E also did not have a way to call for help, inspectors found.
They called for improvements in carrying out risk assessments for people suffering blood clots in veins, and for dementia in patients over 75 years old.
'Need to improve'
Pre-operative safety checks should also be carried out for all patients, the report said.
The Care Quality Commission noted improvements were under way to meet the major A&E target of treating 95% of patients within four hours.
Surgery, critical care, maternity and gynaecology, services for children and young people, end-of-life care and outpatients were all assessed as "good", the hospital said.
Chief executive Joe Harrison said: "We need to improve - notably in our urgent care (A&E) and acute medical services.
"These are the services that come under most pressure due to increasing demand, increasing numbers of very sick patients, and difficulty in discharging medically fit patients."