Aylesbury firefighters free man after work handcuff prank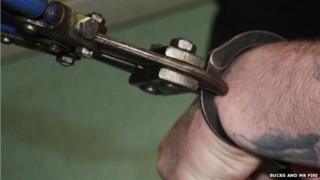 A man in handcuffs had to be cut free using specialist fire service equipment after a workplace prank went wrong.
The man was cuffed to a chair by colleagues in Aylesbury but ran into trouble when no one could find the key.
When he went to a fire station for help, firefighters had to use a hydraulic pedal cutter to free him.
"We don't get many of these incidents, contrary to myths surrounding Fifty Shades of Grey," a fire service spokesman said.
Firefighters from Buckinghamshire Fire and Rescue Service found bolt cutters could not get through the handcuffs, and used equipment normally deployed in car crashes instead.
"It took them about 10 seconds with the pedal cutter," a spokesman said.
The man, who has not been named, was not injured in the incident.
"Rather than being embarrassed, he laughed it off. When you're walking round with handcuffs on, you're quite conspicuous - he recognised and embraced that," the spokesman added.