Girl's bus crash death 'accidental'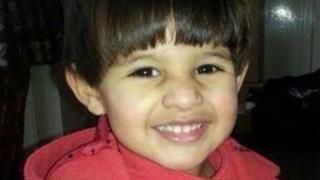 A three-year-old girl who was run over and killed in Luton died in a "tragic accident", a coroner has ruled.
Mayah Shazad was hit by a bus on Dunstable Road in Bury Park on 8 August last year during a family day out.
The inquest at Ampthill Coroners Court heard that Mayah was out shopping with her family when she was hit by a bus.
The coroner Tom Osborne said no-one was responsible for the death, which was a "tragedy only the family could understand".
He said at some point, having crossed Dunstable Road, she let go of a relative's hand and dashed out on to the road.
The girl's family believes the road is unsafe.
Mayah's mother Shazia Imtiaz earlier told the BBC: "The layout of Bury Park is so dangerous. It has to be made safer."
Luton Borough Council said its thoughts remained with the family and it welcomed all feedback.
Figures show there has been a significant reduction in accidents on Dunstable Road since the current layout was introduced in 2006, the council said.
Police said it was a tragic accident and they do not believe the layout of the road was a contributory factor.