Buckinghamshire children's services improvements 'sluggish'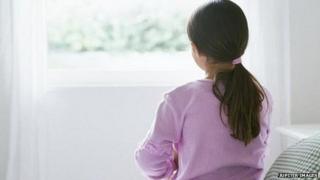 A council lacks "urgency" in improving children's services and its chief executive should stand down as head of a panel investigating concerns, a leaked government report suggests.
Inspectors said Buckinghamshire County Council's response to an Ofsted "inadequate" rating was "sluggish".
Recommendations included improvement board chair Chris Williams being replaced by an "independent chair".
The council said it "accepted" the recommendations of the draft report.
Mr Williams said "improvements" were being put in place that should deliver a "good rating within 18 months".
'Low morale'
An Ofsted report last year found children were being put at risk by "widespread and serious" failings by the county's safeguarding services.
It said the county's most vulnerable children were not being protected or given appropriate help when needed and called for "immediate action".
The leaked report, given to the BBC, reveals government inspectors found problems with retaining staff, poor budget management, a rise in the number of referrals, poor management at a senior level and low morale.
It also found a "lack of urgency in effecting necessary change" and a response that was "reactive rather than proactive".
The council has demonstrated it "can change at pace and with the required sense of urgency" but needed "prompting by external intervention", the report said.
Inspectors called it a "sluggish start" and said the "lack of failure to adequately prioritise" stemmed from a gap at the "highest corporate level".
It recommended the improvement board, the panel overseeing the changes, should have an "independent chair" to "provide transparency".
The report has also recommended increasing the proportion of permanently employed social workers and ensuring an increased focus on professional accountability.
Mr Williams confirmed the council had received the draft report and would make a full response when it received the final version.